Introduction
Are you an agricultural business owner in Bihar? If so, we have some exciting news for you! The Bihar Government's Agriculture Department has launched the Integrated Horticulture Development Mission Scheme to boost the horticulture sector in the state. This scheme aims to transform the agricultural landscape by promoting horticulture activities, providing financial assistance, and offering technical support to farmers and entrepreneurs.
In this blog post, we will explore the various aspects of this scheme and how it can benefit your agricultural business. So, let's dive in!
Financial Assistance for Farmers
One of the key highlights of the Integrated Horticulture Development Mission Scheme is the provision of financial assistance to farmers. The government offers subsidies and loans to encourage farmers to adopt horticulture practices and invest in modern technologies. This financial support can help you expand your farming operations, invest in high-quality seeds, fertilizers, and equipment, and improve your overall productivity.
Additionally, the government also provides financial aid to establish and maintain nurseries, orchards, and vineyards. This assistance ensures that farmers have access to the necessary resources and infrastructure to thrive in the horticulture sector.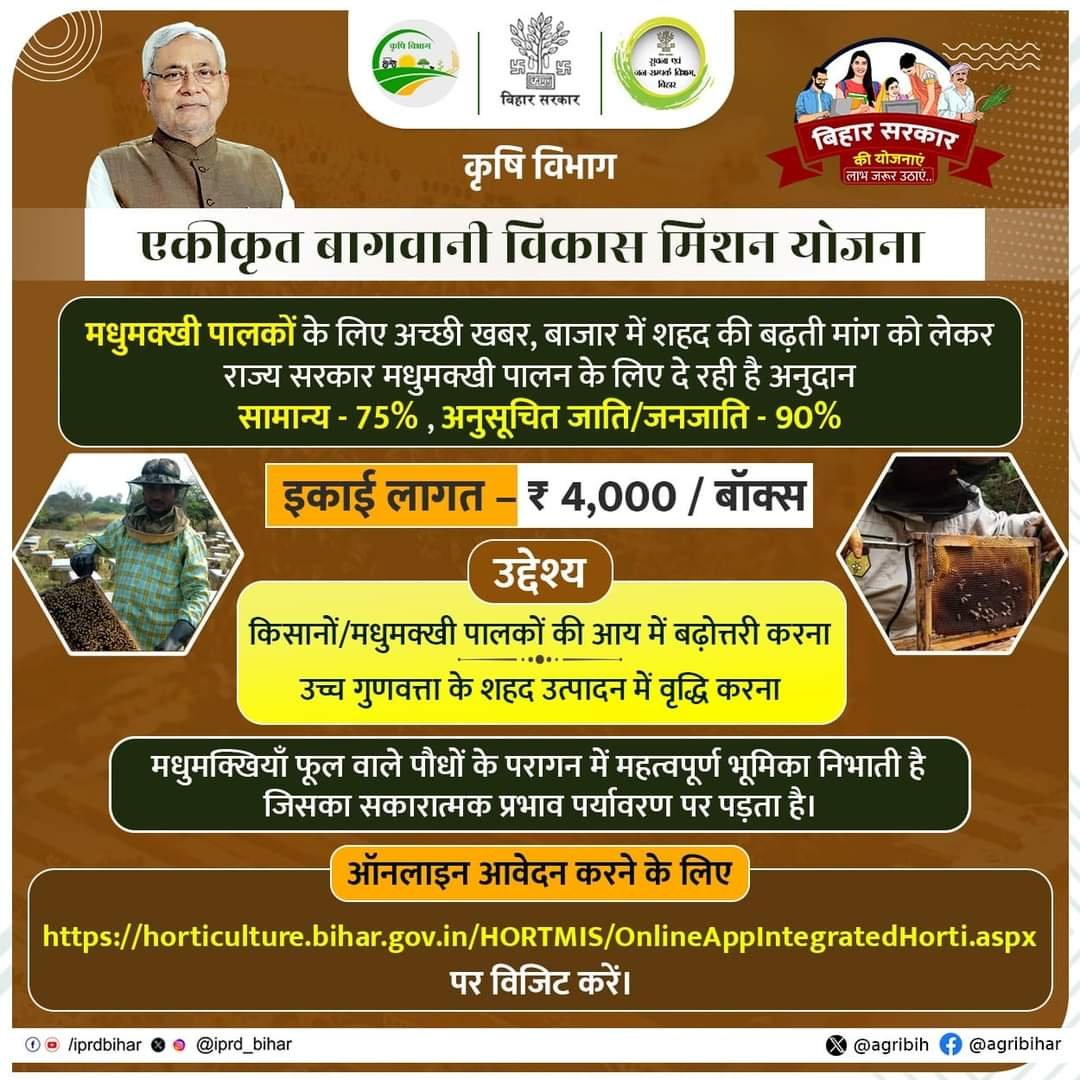 Technical Support and Training
The Bihar Government understands the importance of technical knowledge and skills in the success of any agricultural business. Hence, they have incorporated comprehensive technical support and training programs under the Integrated Horticulture Development Mission Scheme.
Through these programs, farmers and entrepreneurs can gain valuable insights into the latest horticulture practices, crop management techniques, pest control measures, and post-harvest management. The government collaborates with agricultural experts and institutes to deliver these training programs and workshops, ensuring that you receive accurate and up-to-date information.
Moreover, the scheme also facilitates the establishment of horticulture centers and demonstration farms. These centers serve as knowledge hubs where farmers can learn from experts and witness the implementation of best practices first-hand.
Marketing and Market Linkages
Agricultural businesses often face challenges in marketing their produce and establishing market linkages. The Integrated Horticulture Development Mission Scheme addresses this issue by providing support for marketing and market linkages.
The government assists farmers and entrepreneurs in identifying potential markets, connecting them with buyers, and promoting their products through various channels. This support enhances the visibility and marketability of your agricultural products, enabling you to reach a wider consumer base and secure better prices for your produce.
Furthermore, the scheme encourages the establishment of Farmer Producer Organizations (FPOs) and facilitates their integration into the supply chain. FPOs play a crucial role in aggregating produce, standardizing quality, and negotiating better prices, thus empowering farmers and promoting collective action.
एकीकृत बागवानी विकास मिशन योजना के तहत मधुमक्खी पालकों को बिहार सरकार दे रही है 75% से 90% अनुदान राशि। ऑनलाइन आवेदन करने हेतु https://tinyurl.com/2p9vv652 पर विजिट करें।
Agriculture Department-कृषि विभाग
Kumar Sarvjeet
Conclusion
The Integrated Horticulture Development Mission Scheme by the Bihar Government presents a golden opportunity for agricultural businesses in the state. By leveraging the financial assistance, technical support, and marketing initiatives provided under this scheme, you can transform your agricultural business and unlock its true potential.
So, why wait? Embrace this initiative, explore the horticulture sector, and witness the growth and success of your agricultural business like never before!
Back Article- Discover the Bapu Exam Complex: A One-Stop Solution for Success